Introduction
Honor made a last minute swipe at CES and blew us away with what its 200 dollar phone could offer: a metal body, a large 3000mAh battery, quick fingerprint unlock, and a 5.5″ 1080p screen. Honor is also entering the US market with the launch of the Honor 5X, selling it as an unlocked and dual-SIM smartphone.
Honor is a sub-brand of Huawei, but it is not a totally separate company seeing as the charger in the box says "HUAWEI" on it. Also, as seen on some of the built-in apps, "Huawei" and "Honor" are used almost interchangeably.
The Honor brand has grown quite fast and will grow even more with its US launch. As of now, Honor only sells the Honor 5X through Amazon, Newegg.com, and directly from Honor's own online store.
Honor has since focused on making mid-to-low end hardware for the low-cost markets. With this iteration of Honor's X Series, there is a fresh new design language and a reason for it. It wants to give you bang for your buck. The Honor 5X is targeted at the millennial demographic, younger adults who would like to individualize themselves while also making a statement (or maybe college students who can't afford an iPhone).
Key Features
Dual-SIM functionality
Full metal body design
5.5-inch LCD IPS 1,080 x 1,920px resolution, 401ppi
Qualcomm Snapdragon 616 – Octa-core 1.5GHz Cortex-A53 w/ Adreno 405
Android 5.1.1 with Huawei's EM UI 3.1 on top (plans for Android 6.0 Marshmallow)
13MP rear-camera sensor, f/2.0, dual-LED flash, [email protected] video, 5MP front-facing camera sensor
16GB of storage, expandable up to 128GB via microSD
LTE Cat.4 150 Mbps, Wi-Fi a/b/g/n, GPS/GLONASS, Bluetooth 4.1, FM radio
3000mAh battery
Fingerprint reader
Main Disadvantages
No NFC
No 5GHz Wi-Fi
No Marshmallow (yet)
No Quick Charge support
For this price, the lack of 5 GHz Wi-Fi and NFC are more than forgivable, though the lack of the latter would mean no Android Pay support. We can live with both, but we wish this device came with support for Qualcomm's Quick Charge 2.0. Some might wish it had a removable battery, that's one compromise you would have to accept.
While the Honor 5X currently does not have Marshmallow, the company has promised an update down the line.
On the positive side, the Honor 5X has a fingerprint scanner and a metal backside, features that other phones of this price range do not offer.
The Honor 5X comes in 3 colors: Silver, gold, and gray (not pictured). The gray unit is the only one that has a black front side which the metal backing is a few shades darker than the silver unit.





Gold variant has a beige face
Compared to the Honor 4X, its predecessor, the 5X comes with a bump in the display resolution from 720p to 1080p, increased internal storage of 16GB, a modest increase in processing and graphics power, and greatly improved hardware design that no longer looks generic and boring.
Display
There is a peculiar thing about the display like on other Huawei phones. A thin black frame runs around the display and when the screen is off, it gives the illusion that the bezels are super slim. It's really an effective trick that helps a lot in the aesthetics department.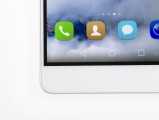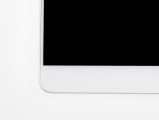 Slimming bezels: a black frame surrounding the display makes bezels seem thinner
Honor went with a 5.5 inch, LCD IPS display with a resolution of 1080x1920px.
The phone also offers optional software level sunlight compensation. It would temporarily brighten up the detail in the dark parts of the screen content, which would otherwise be tough to see in direct sunlight.
Colors don't shift when turning the device about, but there is some contrast shift when looking at the device at an angle.
The color representation of the Honor 5X's display is quite good for a phone of this price range though its default wallpaper does not do the display any favors.
In reality, colors look vibrant without being too saturated, and the brightness is quite generous even in direct sunlight.
While this display is generously bright in good light (473.1nits), it does not get as dim as some other devices can (6.1nits). This is not a deal-breaker, though, unless you plan on often using this device in pitch black rooms.
With the default display settings, the Honor 5X showed a very good contrast ratio of 1:1072.
The max color deviation (DeltaE) was 11.3 and the average one was 4.3. The whites were the most inaccurate with a slight bluish tinge but nothing major.
The 5X does let you manually change the color temperature of the display. When we played with it we were able to reduce the average and max deviations to DeltaE 2.3 and 5, respectively. There was minimal loss in screen brightness when adjusting the color temperature to a slightly warmer one.
Display test
100% brightness
Black, cd/m2
White, cd/m2
Contrast ratio
Huawei Honor 5X
0.441
473.1
1072
Xiaomi Redmi Note 3 (MediaTek)
0.42
403
953
OnePlus One
0.75
598
799
Meizu m2 note
0.42
473
1108
Meizu m1 metal
0.50
390
780
Motorola Moto X Play
0.41
620
1520
LG G3
0.72
570
789
Samsung Galaxy J7
0
358.00
∞
Asus Zenfone 2 ZE551ML
0.44
390
879
Lenovo K3 Note
0.24
432
1793
Apple iPhone 6 Plus
0.52
705
1361
Huawei Mate S
0.00
372
∞
Connectivity
The Honor 5X features two SIM tray slots; one is a microSIM and the other a nanoSIM. It is capable of 42.2/11.5 Mbps on HSPA+ and LTE Cat4 @ 150/50 Mbps. The specs sheet lists the device as compatible with LTE band 12. Unfortunately, Honor has told us that it hasn't any plans to certify the Honor 5X for T-Mobile's 700MhZ band 12 at this time.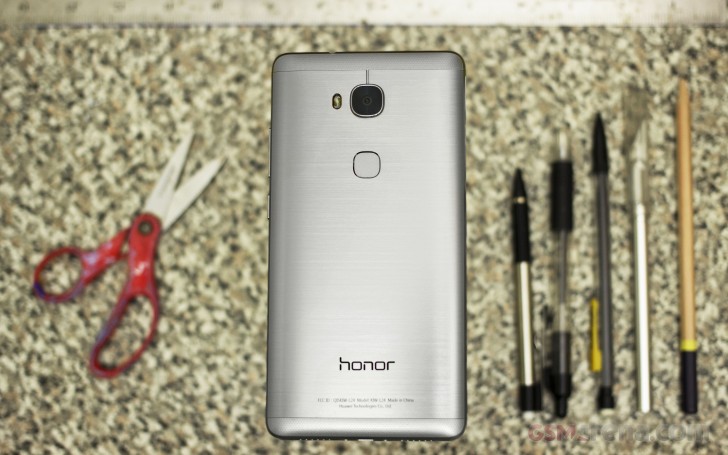 There are a couple of places in the connectivity department where Honor has found ways to cut cost. Among the common myriad of connectivity options like Bluetooth 4.1 A2DP and FM Radio, there is no NFC, also there is the omission of 5GHz dual Wi-Fi, which isn't horrible, but is often found on many smartphones.
Don't expect there to be any TV output via the microUSB port, though perhaps TV out options are becoming more and more phased out by mirroring devices like smart TVs, Miracast dongless, and the Chromecast. Of course, the case might differ in other regions around the world.
Battery life
EM UI offers many battery saving options that can help your phone sip battery to the very last drop. Right off the bat, as you begin using your device, the Honor 5X scopes out potential battery hogs and reports them to you via a notification. From here you can either ignore further alerts for that app, or you can force close the app immediately.
Facebook and Twitter, for instance, are not protected by default, which means they get terminated upon putting the phone to sleep, all you have to do is head to the Protected Apps window and whitelist the apps that you expect push notifications from.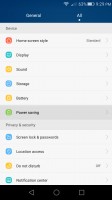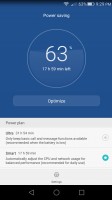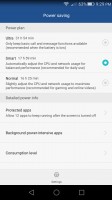 Battery management menu
This is a bit of a nuisance, alternatively, the apps could have been pre-protected so they work properly, or the apps could have been excluded from pre-installed apps so they'd be protected upon installation.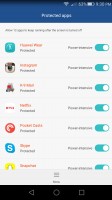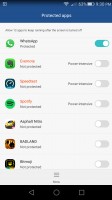 Apps must be white-listed or "Protected" so the UI does not terminate it when asleep
There is also even an Ultra Power Save mode baked in which will disable all data, extra connectivity like Wi-Fi and Bluetooth, and only allow you to make and receive calls, send or receive SMS, or look through your contacts.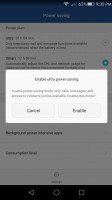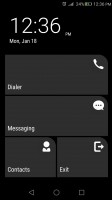 Ultra power save mode only lets you access the dialer, SMS, and contacts
The Honor 5X comes with a generous 3000mAh battery which is just at the middle of what the 5.5 inch 1080p market offers with phones like the Xiaomi Redmi Note 3, Meizu m2 note, and the Lenovo K4 Note. When looking at the overall scores of the devices in this niche, the Honor 5X did a bit better than most devices with an overall score of 76 hours – probably thanks to EM UI's excellent battery saving features.
The Honor 5X did well for a device of its price. It gave us 9:16h of video playback, 10:00h of web browsing, 29:50h of call time. This battery draw, combined with the standby time, gives us an overall score of 76 hours, which is about how long the phone would last you if you used it for an hour of calling, web browsing and video watching per day.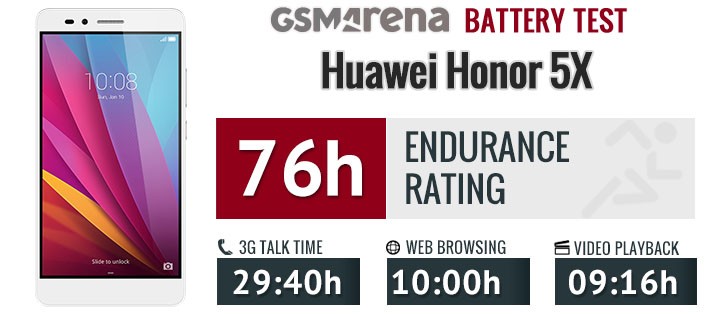 Our proprietary rating denotes the number of hours the phone will be operational if you are to make an hour of 3G talks, web browsing and video playback per day. Such usage pattern is of course entirely artificial, but we've established it so our battery results are comparable across devices.
The proprietary score also includes a standby battery draw test, which is not featured in our battery test scorecard but is calculated in the total endurance rating. Our battery testing procedure is described in detail in case you want to learn more about it.
User interface
EM UI, also known as Emotion UI, is Huawei's own skin layered over Android. The Honor 5X comes with EM UI 3.1 layered over Android Lollipop 5.1.1. There is an abundance of features packed into EM UI, most useful while others being more gimmicky than anything else.
Right off the bat, as soon as you unlock the device, you notice that there is no app drawer, there is no button that shows you a list of all your apps. Instead, they all show up on the homescreens just like on iOS. You can create folders and put away the icons you don't want to get in your way.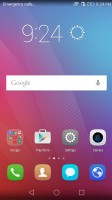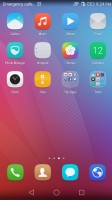 Home screens on stock launcher
Though, organizing them might be easier than you think. You can organize your apps very similarly as you would with iOS, or you can create a folder by dragging one app icon onto another one. Once organized, the folder icons are grids rather than stock Android's stacks.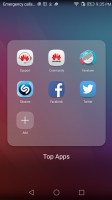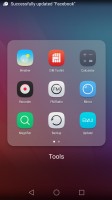 Folder view, look familiar?
Naturally, one would worry about finding an app that's tucked away somewhere without a proper app drawer. You can intuitively flick down to bring up a search box. Typing a few letters will search through you apps, contacts, SMS, and even Twitter for any matching keywords.
If you dislike EM UI's launcher, you can always use an aftermarket one that suits your preference.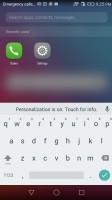 Quick search can be accessed by flicking down on any homescreen
When setting up a fingerprint for security, the phone turns off all lock screen notifications by default so you would need to re-enable them.
Also, on the lock screen, is a quick toggle menu that can be accessed by swiping from the bottom edge that includes: music controls, shortcuts for voicemail, changing the wallpaper, settings, calculator, camera, and a toggle for the flashlight.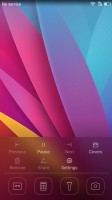 Quick panel is only available in the lock screen
Setting up the fingerprint is easy and quick. Once set, a fingerprint can be assigned many functions other than just unlocking the device. You can assign a contact to a particular fingerprint which will unlock the phone and dial the contact upon scanning that finger. You can also use the fingerprint sensor to call the notification shade, the multitasking app switcher, or to answer a phone call.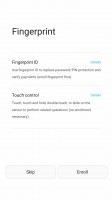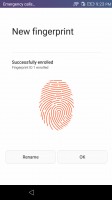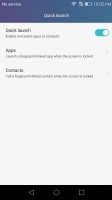 Possible fingerprint functions • Once added, a fingerprint can be used to launch an app or dial a contact
There is also an Applock and a Vault baked into the UI, which will protect certain apps and gallery albums from opening until the correct fingerprint is provided.
Themes are also available on the stock launcher; you can customize themes by changing the lock screen style, unlock animation, wallpapers, icons and font. Unfortunately, there is no apparent way to download more themes and the Honor 5X only comes with three themes pre-installed.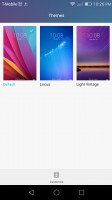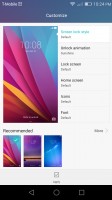 Themes menu and customization of themes
Notifications can be customized for every individual app in EM UI. You can choose whether apps appear on the lock screen, banners over the status bar, and in the status bar itself.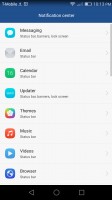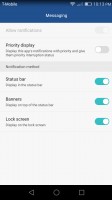 Notification center allows you to customize alerts on a per-app basis
There are also some pretty nifty features baked into EM UI like a glove mode, sunlight enhancement, and one-handed UI.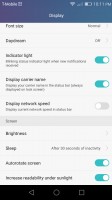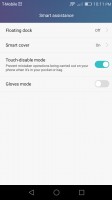 Various display settings • Glove mode found in smart assistance menu
Among the accessibility options are: Talkback, Switch access, high contrast text, power button ends the call, raise to ear to answer, color inversion, color correction, hearing options, and touch & hold delay times.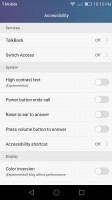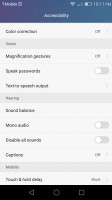 Accessibility options on the Honor 5X